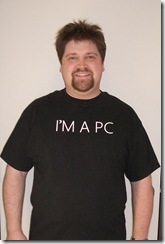 I really think Microsoft is onto something with their retro t-shirt line. The shirts evoke feelings from an era before you learned to hate Microsoft.
This post isn't about one of those shirts. This post is about the current era. The one where many of you have decided to take sides with Justin Long. Well, I'm here to tell you that John Hodgman is my General.
Oh, I have to confess that I'm technically breaking the rules for a Monday t-shirt post—this isn't a debut. I've been spotted wearing it before in the wild. Unfortunately, I missed the perfect opportunity to wear it for best comedic effect: it was in the laundry the day I went to Portland's CyborgCamp.

Bonus link: next time I'm in Seattle, I'll have to go stock up on Microsoft logowear!