Those of you who read this blog (and my more technical blog API Guy) regularly know that I'm a huge fan of the open collaborative database Freebase.com.
This weekend, I recruited my mom (who is currently visiting from out of state) and my wife to ride along with me on the 6 hour drive (each way) from Portland, OR to Vancouver, BC for a 3 hour Freebase.com meet-up at the Irish Heather Gastropub.
I met a bunch of cool people, including James and Ben from BioVenturist, Dale McGladdery (one of the organizers of Northern Voice), fellow Freebase developer-enthusiast Jim Pick, designer and techno-philosopher Dorian Taylor, and others.
While I was there, the Freebase community director hooked me up with a t-shirt: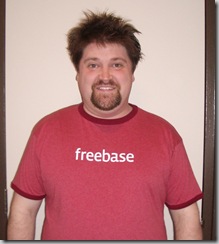 PS—to make 12 hours of total driving for a 3 hour meeting make sense, think of it as a road-trip with home as the destination and a 3 hour tourism break at some interesting point in the middle.